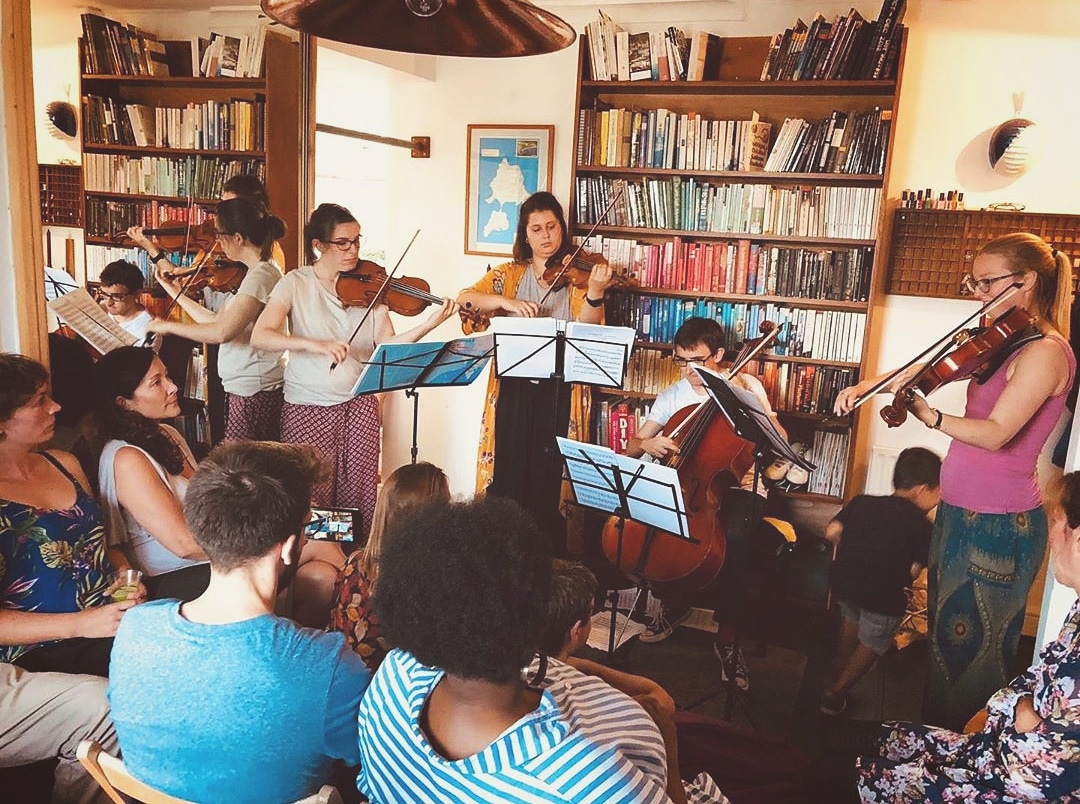 HOUSE CONCERTS
In 2019 we launched our first ever series of house concerts! These are not only an amazing (and intense) way to experience live music, but also a great opportunity to meet people in your area. They're chilled out, informal events that are a long way from the formal surroundings and etiquette of a concert hall. But the intensity of the playing is just the same. Being so close gives an incredible new perspective to listening.
Anyone can come along, and it's free entry with donations. However, the events aren't listed publicly: to attend one of our concerts in this series, first you need to have been invited. If you're invited, you'll receive a code that you can use access the secret webpage and reserve your spot directly.
Hosts prioritize inviting their local community. However, if you'd like to attend one and haven't been invited, you can register your interest (and your location) with us here to be put on a waiting list. At the moment we're only able to offer UP CLOSE performances in London, but this may change.
We're currently accepting applications for the next round of performances: read on for more information about hosting!
APPLY TO HOST
From 2019 we are taking our music out of the concert hall and bringing it to you! Get up close and personal with Florian: UP CLOSE.
Do you love live music?

Do you hate how long it takes to get to the best venues to see the best people?

YES?

Then maybe you should apply to have the Florian Quartet perform in your living room!

If you have enough space in your living room/ bedroom/ roof/ basement/ workspace for some people plus a VW Beetle with half the bonnet cut off (that's how much space the quartet takes up) then you are an ideal candidate to host a concert
How it Works
Fill in the Application Form below

Easy peasy

Chat to the Florian Quartet

We will talk about what you want from the concert, set the capacity and choose a date.

Invite your Community

It will be a ticketed event but you are welcome to have as many of your own guests as you like.

Sit Back and Enjoy the Music!
Things You Should Know
It's FREE to host. There are no costs to you whatsoever
ANYONE can come, along as they've been invited and have signed up in advance. We always have extremely respectful audiences so do not expect any problems at all, but if there are then we will be on hand to sort out anything that may go wrong.
It's TICKETED. The tickets are free, but everyone has to sign up. You can have as many of your own friends as you like, but please let us know in advance so they can be allocated tickets.
It's BYOB. So you may want to stock up on disposable cups!
It's for EVERYONE. We want to make this as inclusive and friendly as possible. You don't need to have ever listened to classical music to have a great time.
You DON'T NEED CHAIRS. Unless someone has special requirements, the floor is the place to be in these intimate gigs.
It's FREE to attend. Anyone can come to this event completely free of charge. We ask at the end for anyone who can to pay as much as they think it was worth, which is how we earn our fees.
You can CHOOSE THE MUSIC. Only if you want to – but you can request from our list of repertoire, or tell us the kind of vibe that you are after and we will choose pieces that match it. Or if you want a surprise you can leave it completely up to us!